Socom in English
WELCOME TO THE HOME PAGE owned by SOCOM, THE CENTER OF EXPERTISE ON SOCIAL WELFARE IN SOUTH-EAST FINLAND.
The Center of Expertise on Social Welfare in South-East Finland, called also as Socom, is one of the eleven centers of expertise on social welfare in Finland. The Centers of Expertise provide their services in provinces. Socom provides their competence/their know-how in South Karelia and Kymenlaakso.
The central objective of Socom is to establish a working method/model and stable co-operation structure between practical work in the social field, research and education, and municipalities and other service providers. The Centers of Expertise on Social Welfare are open networks based on territorial cooperation needs. The management of the organization is as light as possible. This enables flexible and innovative activities.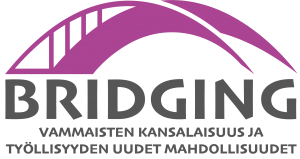 Bridging
– Promotion of the inclusive Employment and the Active Citizenship
The equal right to study and work does not realize beyond people with disabilities in Finland. They face discrimination too often and there is a lack of experienced full-citizenship. In policy level, the development of disabled policy is encouraging: Part-time employency is recommended widely. Still the need for new knowledge, information of activation policies is required.
Seeing persons with disabilities only as objects of charity and medical treatment is old fashioned. We find it important to confront them as persons with equal rights and capability to make their own decisions in life.
Ask more Project manager Henna.Raikaslehto@socom.fi tel.+358503066869
Valo – Preliminary Project to Strengthen the
Social Inclusion of Families with Children
1.1.-11.5.2018
The VALO/LIGHT project has started in early January and we are currently looking for both Southeast Finnish and international partners. During the preparation period from January 1 to May 11, 2018, we are planning a development project to strengthen the inclusive inclusion of the families with children and to prevent exclusion, which we aply from the ESF by 11 May 2018. In the actual development project, our aim is to develop new ways to guide families with children at risk of exclusion to the services they need and to identify and cut of the cycle of disadvantage. We wish to have our project partners, from Southeast Finland, parishes, early education practitioners and organizations. Through our international partners, we strive to get new models and practices to try.
Ask more Project manager Mari.Lehtonen@socom.fi tel.+358403520320